PARENTS, SCREENS, AND KIDS WITH ADHD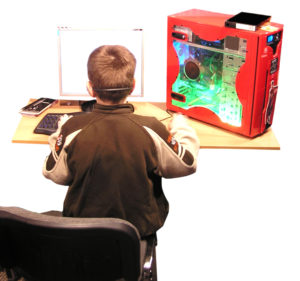 SCREENS AND EDUCATION ARE TOGETHER FOR THE LONG-HAUL! 
Schools are finding computers and I-pads to be valuable tools.  So these tools are in your child's hands and in your home. Choosing what to watch is just as important as how long your child spends watching or playing. Monitoring content is overwhelming -too many choices for kids and too little parent time or energy.  COMMON SENSE MEDIA (www.comonsensemedia.com) is a great resource for parents. Try to use devices in a way that not only educates your child, but also brings you together as a family.  Like by playing Heads Up or Scrabble together.
SCREENS AND BEDTIME SHOULD BE SEPARATED!
Screens keep kids up not only because they delay bedtime (just waiting until the show is over, waiting to finish this level in the game, finishing a text conversation) but also because the BLUE LIGHT emitted from screens actually wakes the brain up and makes it harder to fall asleep.
Try to get TVs and other screens out of bedrooms. Try to get screens shut off an hour before bedtime, and if you can't get a teen to charge his device outside of his room, at least put it in Do Not Disturb mode.  Those alerts can go on all night long!
GOOD STUFF CAN BE BETTER THAN SCREENS!  
"GOOD" stuff such as reading books, playing games as a family, being outside in nature, exercise, and building or making things are all needed in ADHD and needed to keep kids and parents healthy and happy!
INTERACTING CAN BE WAAAAY BETTER THAN SCREENS!
It can be easy to allow screens to get in between face-to-face communication.  Your screen doesn't usually talk back-right? But you want your child to learn how to engage with others and they learn this from you and from your example. Show your ADHD child how conversation works.  This usually goes something like this: I talk, you listen THEN you talk, I listen.
Listening and Talking with each other are still essential skills especially in ADHD!!!
Please visit www.greenvilleadhd.com or call 864-305-1662 if we can help!