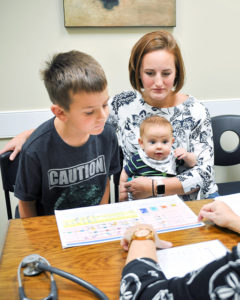 When the providers at Greenville ADHD Specialists, P.A. offer options for treatment of ADHD as well as some of the other conditions that are associated with ADHD we:
Consider whether the treatments have good scientific research and evidence showing they are effective.
Consider whether benefits of treatment outweigh the risks of that treatment, both short-term and long-term.
Consider positive outcomes to mean significant improvements in the core symptoms of ADHD such as attention and/or impulsivity and/or hyperactivity.
Treatment Options with Excellent Evidence Supporting Positive Outcomes
Medications

Stimulant Medications
Non-stimulant Medications

Behavior Modification

Home

Use of Positive Parenting Techniques

School

Use of Accommodations such as those in a Plan 504 or IEP

Therapy

Use of therapists/counselors trained in treating children with ADHD

Challenging Horizons Program*

Program designed to help children with organization skills and time management as well as other executive function deficits common in ADHD
Treatment Options with Some Evidence Supporting Positive Outcomes
Well-balanced diet including fruits, vegetables and lean protein
Omega 3 Fish Oil Supplementation
Additional Supplements

Recommended based on urine testing of neurotransmitter levels**
Melatonin is often used to assist with sleep onset in ADHD but does not improve the core symptoms of ADHD

Neuro-feedback/Biofeedback
Memory Training Programs

Can improve working memory but no long term improvements in core symptoms of ADHD

Interactive Metronome

Occupational therapy tool that may improve motor skills and possibly memory
Evidence regarding ADHD is very limited

Treatment Options with No Evidence Supporting Positive Outcomes
Eliminating food dyes

Only helpful if child has an allergy or sensitivity to the particular dye

Eliminating processed foods

Only helpful if child has an allergy or sensitivity to chemicals in foods

Removing gluten (wheat)

Only helpful if child has an allergy or sensitivity to gluten

Brain Balance

Can improve gross motor, fine motor skills, coordination and balance
No evidence regarding ADHD although there are many "testimonials"

Massage

Can boost mood but no evidence for ADHD positive outcomes

Meditative/ Imagery Techniques

Can help calm anxiety but no evidence for ADHD positive outcomes

Hypnosis

No evidence for ADHD positive outcomes
If you need help with your own or your child's ADHD then call us at:

864-305-1662
*Challenging Horizons Program is offered by Still Wind Ministries, 864-234-1150
**In our office, we offer testing for measurement of neurotransmitter levels in urine and saliva as well as genetic testing